2021 Marching Southerners Woodwind and Brass Audition Information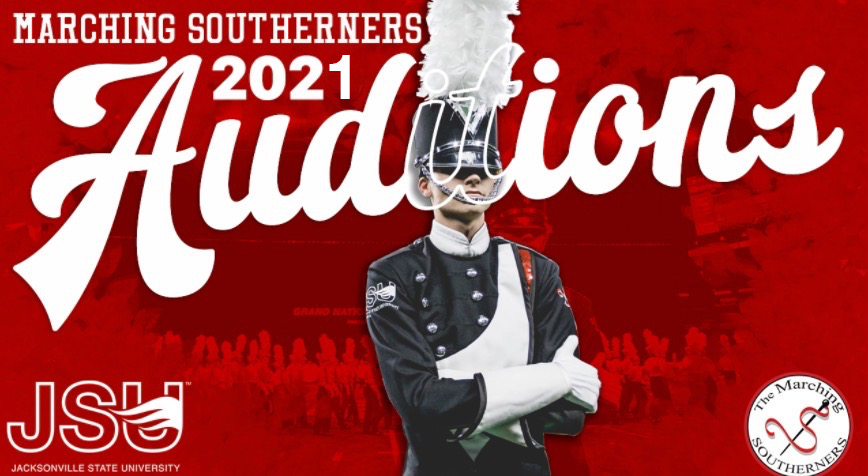 Hello Everyone!
I hope that you are all well and enjoying your summer.
With the change in schedule for the start of rookie camp and band camp this year, we will have less time to do music auditions than we have had in the past. So that we can get the lines set in time to start pre-game drill on the first Tuesday night of camp, we have decided to do the music auditions virtually again this year. If you play a woodwind or brass instrument, we will need you to submit your audition video by July 24 @ 5 pm. All marching/visual auditions will take place at camp. Your music (video) audition score will be combined with your marching/visual audition score to give you a final audition score. Concert band auditions with still remain at the end of band camp.
Here are the instructions for submitting your audition video.
Scroll to the bottom of this page to find what music is required for the audition for your section.
Go to the toolbar at the top of this page. Under "Sections" click on the name of the section you are auditioning for. This should take you to the page where your show music is found.
Download and practice all required audition music.
Video record yourself playing the audition music and immediately (on the same video file) record yourself playing your chromatic scale so that we can hear your range. (Some instruments will have specific instruction on the audition music for the chromatic scale. If not, start on the lowest note comfortable for you and play to the highest note comfortable).
Once you are happy with your recording, upload your video file to YouTube as an unpublished file. Once your file has uploaded, copy the link.
Next, you must complete the audition form. Here is the link: AUDITION FORM
Use your official name that is in the JSU system to register….no nicknames.
Paste your YouTube link where it asks for your audition link.
Click submit.
Once uploaded, a message will appear that will say thank you for your submission.
That's all there is to it!
If you have any problem submitting the video file, please contact me!
If you need to check out an instrument (mellophone, baritone, euphonium, 20J) to complete your video, our graduate assistants will be available to meet you at Bennett Field on Woodwind Day and Brass Day for select hours. This will be from 10AM-noon on June 26th and 8-9 AM on July 10th. 
Remember, in order to be considered for a spot with the 2021 Marching Southerners, you must submit your audition video by Saturday, July 24 @ 5 pm (If you would like to submit it before then, that is perfectly fine)!
Again, If you have any questions, please feel free to email me or your section leader! I can't wait to get everyone on campus for band camp and get this season started. 
Have a great summer, be safe, and be well!
Dr. B
Flute & Picc
Opener: mm 46-62
Ballerina Tune: mm 47-58
Ballad: mm 37-51
Finale: mm 112-135
Clarinet
Stars Fell 
AND choose 1 of the following:
1. Venus: mm 29-45 (with pickup)
2. Finale: mm 1-15
Alto Sax
Opener: mm 52-62
Ballad: mm 34-45
Tenor Sax
Opener: mm 52-62
Finale: mm 11-19
Bari Sax
Ballerina Tune: mm 28-41
1st Trombone
Opener: mm 52-62
Ballerina Tune: mm 17-29
Finale: mm 7-26
2nd & 3rd Trombone
Opener: mm 52-62
Ballerina Tune: mm 17-29
Bass Trombone
Ballerina Tune: mm 21-37
Finale: mm 7-27
Baritone & Euphonium
Opener: mm 52-69
Finale: mm 29-52
20J
Opener: mm 5-19
Ballad: mm 26-28
Closer: mm 112-135
Quilting Party: C-End